(Click the above icons to change books, see the credits for this one, or return to the beginning.)

---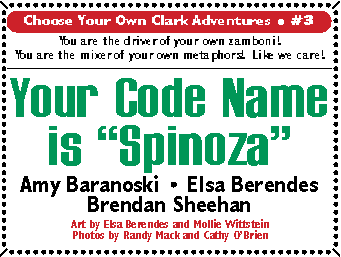 ---

What you are holding in your hands is disgusting. Shame on you.

This is no normal book. Choose-Your-Own-Clark-Adventures are non-linear narratives in which you, the upholding citizen of Sassy land, get to choose how the story moves. This is part of a complex field called "branching," and without further knowledge of graph theory and Huffman trees the reader will naturally be lost. Your only recourse shall be to live deliberately and suck the marrow out of life.

You pick your own path! If you don't choose right, you'll end up looking back for the "good" ending the rest of the time anyway. Who's to say what is good anyway? Good causes bad, bad causes good. It's a balance. So, just look for any old ending and think to yourself "It is I who objects." Could it be simpler?
Turn to page 1.